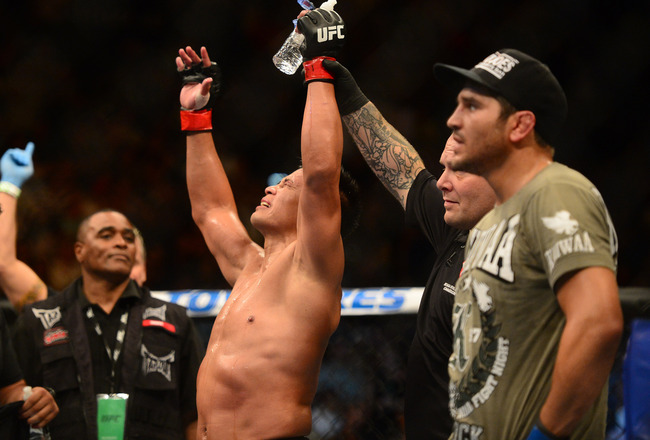 MMA champion Cung Le, 40, fighting at the UFC in Macau on Nov 10, knocked out his opponent Rich Franklin with one powerful punch to the face, sending the latter spinning straight to the floor and lying there flat out.
The win was even more impressive because Le is suffering from an injured foot that has not had the time to heal properly. The former Strikeforce champion, however, did not want to miss the opportunity to fight in China, where he previously competed in kickboxing, so he took the risk.
 For the win, Le earned a $40,000 bonus. Watch the video. The knock-out punch is at around 0:30.
The former Strikeforce middleweight champion had said before the fight that he considered it "the biggest fight of my career."
This is not the first surprise the near-retirement-age Le has sprung on the fight world. At the Strikeforce fight in 2008, Le was the heavy underdog but broke champion Frank Shamrock's arm in a series of kicks and won on TKO.
Then in 2009 he quit to act in movies. Then he came back. At UFC 139, against Wanderlei Silva, Le was leading in the first but was hit bloodied in the second round and had to be taken to the hospital after the ref stopped the match.
That match may have been stopped, but Le wasn't. He came back, and at UFC 148 beat former title contender Patrick Côté in a unanimous decision.